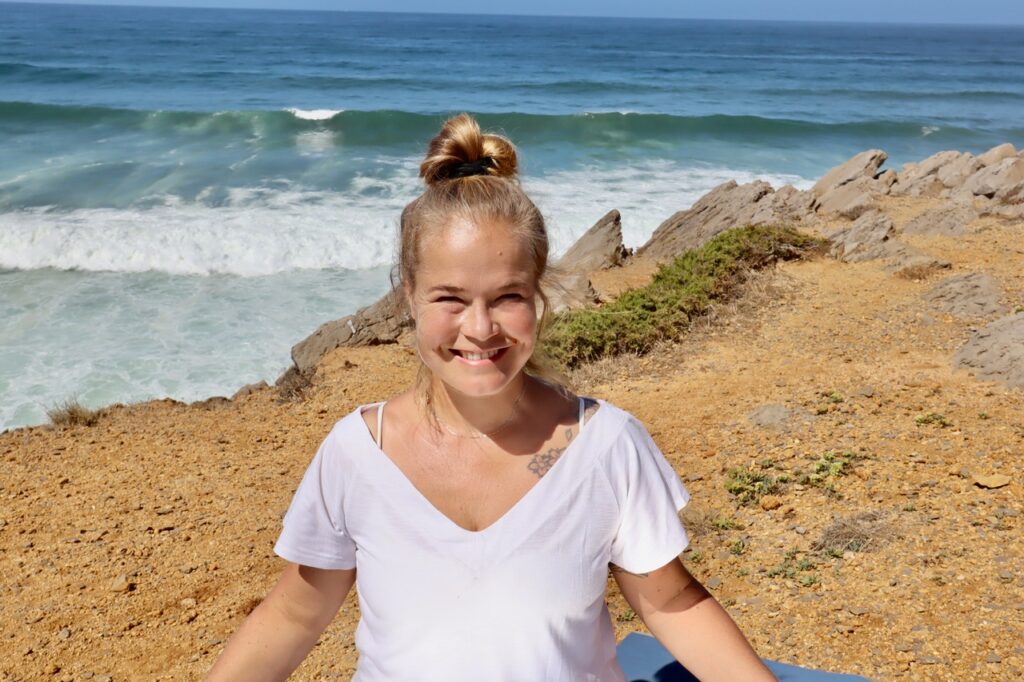 Welcome to Yoga on Tour Portugal.
(German version below)
My name is Andrea Stern. I am a Physical Therapist and Yoga Teacher.
Born in Germany and a citizen of the world, I have traveled to Australia, worked in Mallorca, and lived in San Francisco. In 2021, my family and I arrived in Portugal-Obidos Lagoon and are thrilled to have found a home here.
To me – Life is movement!
It is important to me to guide you conscientiously, purposefully, and effectively in your yoga practice. Your individuality and health are at the forefront. For locals and tourists near Obidos Lagoon – Silver Coast, I offer regular yoga classes and individual therapeutic treatments.
For all German-speaking yoga enthusiasts, I share regular yoga videos for your practice at home or in nature. It brings me joy to accompany you on your journey towards greater vitality.
Whether online or in person: I look forward to practicing together and wish you great joy along the way!
Warmest regards, Andrea Stern
____________
German version:
Herzlich willkommen bei Yoga on Tour Portugal.
Mein Name ist Andrea Stern. Ich bin Physiotherapeutin und Yogalehrerin.
Geboren in Deutschland und Bürgerin der Welt. Ich bin nach Australien gereist, hab auf Mallorca gearbeitet und in San Francisco gelebt. Im Jahr 2021 sind meine Familie und ich in Portugal, genauer gesagt in der Obidos-Lagune, angekommen und freuen uns, hier ein Zuhause gefunden zu haben.
Für mich bedeutet das Leben Bewegung!
Es ist mir wichtig, dich gewissenhaft, zielgerichtet und effektiv in deiner Yoga-Praxis zu begleiten. Deine Individualität und Gesundheit stehen im Vordergrund. Für Einheimische und Touristen in der Nähe der Obidos-Lagune an der Silver Coast Portugals biete ich regelmäßige Yogaklassen und individuelle therapeutische Behandlungen an.
Für alle deutschsprachigen Yoga-Enthusiasten teile ich regelmäßig Yoga-Videos für deine Praxis zu Hause oder in der Natur. Es bereitet mir Freude, dich auf deiner Reise zu mehr Vitalität zu begleiten.
Ob online oder persönlich: Ich freue mich darauf, gemeinsam zu yoga zu praktizieren und wünsche dir dabei viel Freude!
Herzliche Grüße, Andrea Stern